Now this didn't happen burning a bra in some wild corner of scandanavia,this happened on London's Oxford street, a man outraged by 30 years of anti-worker,corporate laws burnt his underpants and the rest of his city clobber and strode defiantly wearing his mask covering his manhood.
'Why should women have all the fun!' he cried striding towards centre point shocking commuters and early morning shoppers alike
'I think it's disgusting' said Mrs Rendell-Brown from Whitechapel ' e's no gentleman walking down the street like that'
'Should be locked up' a largish Nigerian lady screamed,'I never expected this in England' she remonstrated (after fainting)
'Wild' said Susan Smith commuting from Stevenage.
Shoppers on London's Oxford Street were stunned to spot a man walking by wearing nothing but a mask, which he had positioned as an undergarment. The stunt came on the same day face coverings became mandatory in shops in England.
'Get yerself some underpants!!' a taxi driver yelled driving by
whereas Deliveroo boys saw him as a plonker with a conker (just seeking attention)
The near-naked man strolled nonchalantly down the thoroughfare while onlookers snapped pictures and videos on their phones to record the unexpected sight. His motives for choosing to forgo clothing and sport only a mask to maintain his modesty are currently unknown, but local media have speculated it could be a protest against the new face coverings mandate.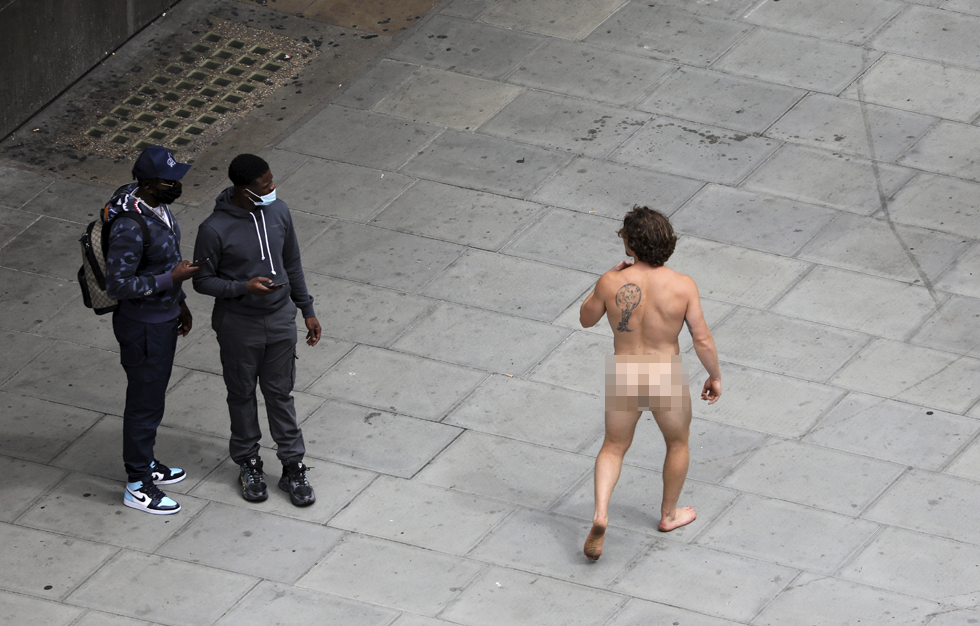 A man wearing a surgical mask as G-string walks past people with protective face masks in London, July 24, 2020. © REUTERS / Simon Dawson
Met police and the Mayor pleaded for calm
As of Friday, face coverings are now compulsory in shops in England, though some exemptions are permitted for certain medical conditions and for kids aged under 11.
Questions have already been raised about who is expected to police the wearing of masks, with some of the UK's big supermarket chains saying they have no intention of challenging customers on the issue.
Police are asking customers not to confront fellow shoppers on the issue, and are instead urging stores to refuse entry to people not wearing facemasks.
"I would urge retail outlets to play their part in making the rules crystal clear – if you are not wearing a face covering then you are not coming in," said John Apter, chairman of the Police Federation of England and Wales.
This motion picture is protected under the copyright laws of the United States and other countries throughout the world. Country of first publication: United States of America. Any unauthorized exhibition, distribution, or copying of this film or any part thereof (including soundtrack) may result in civil liability and criminal prosecution. The story, all names, characters, and incidents portrayed in this production are fictitious. No identification with actual persons (living or deceased), places, buildings, and products is intended or should be inferred. No person or entity associated with this film received payment or anything of value, or entered into any agreement, in connection with the depiction of tobacco products. No animals were harmed in the making of this motion picture
UK announces 'most comprehensive flu program in history,' aims to vaccinate 30mn