Coronavirus: 38 days when Britain sleepwalked into disaster
Boris Johnson skipped five Cobra meetings on the virus, calls to order protective gear were ignored and scientists' warnings fell on deaf ears. Failings in February may have cost thousands of lives
Insight | Jonathan Calvert, George Arbuthnott and Jonathan LeakeSunday April 19 2020, 12.01am, The Sunday Times
On the third Friday of January a silent and stealthy killer was creeping across the world. Passing from person to person and borne on ships and planes, the coronavirus was already leaving a trail of bodies.
The virus had spread from China to six countries and was almost certainly in many others. Sensing the coming danger, the British government briefly went into wartime mode that day, holding a meeting of Cobra, its national crisis committee.
But it took just an hour that January 24 lunchtime to brush aside the coronavirus threat. Matt Hancock, the health secretary, bounced out of Whitehall after chairing the meeting and breezily told reporters the risk to the UK public was "low".
The five meetings Johnson missed came during a period in late January and February where he spent an entire parliamentary recess out of sight at his official country retreat of Chequers, prompting Labour to accuse him at the time of being a "part-time prime minister".
The Sunday Times quoted one unnamed senior adviser as saying Johnson "didn't work weekends", and "there was a real sense that he didn't do urgent crisis planning".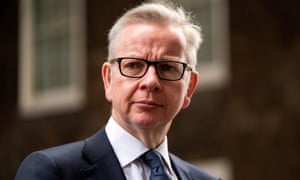 Gove told the Ridge show it was wrong to argue that Johnson had been "anything other than energetic, focused, determined and strong in his leadership against this virus".
Read more
"The idea that the prime minister skipped meetings that were vital to our response to the coronavirus I think is grotesque," Gove said.Advertisement
On the shipment of PPE to China, in his interview on the Ridge show Gove refused to say three times whether this had happened, saying only that some aspects of the Sunday Times story were wrong.
A shortage of PPE for NHS and care home staff has been a repeated criticism of the UK response to coronavirus, with the Guardian revealing on Friday that NHS staff had been told to wear plastic aprons if stocks of protective gowns ran out.
But on the Marr show he accepted it was true, saying this was done "to help with the most extreme outbreak in Wuhan". The PPE had not come from pandemic stockpiles, Gove said, and since then the UK had received "far more" PPE from China, he added.
Asked whether the government had made mistakes in its response to the pandemic, Gove accepted this broad point: "All governments make mistakes, including our own. We seek to learn, and to improve every day. It is the case, I'm sure, at some point in the future that there will be an opportunity for us to look back, to reflect and to learn some profound lessons."
Labour's Jonathan Ashworth, the shadow health secretary, told the Ridge show that Gove had given "possibly the weakest rebuttal of a detailed exposé in British political history".Advertisement
There were, Ashworth added, "serious questions as to why the prime minister skipped five Cobra meetings throughout February, when the whole world could see how serious this was becoming".
He said: "And we know that serious mistakes have been made. We know that our frontline NHS staff don't have the PPE, that they've been told this weekend that they won't necessarily have the gowns which are vital to keep them safe. We know that our testing capacity is not at the level that is needed."
In this context, he added, the knowledge Johnson had missed key meetings "suggests that early on he was missing in action".
Share your story
Share your stories
If you have been affected or have any information, we'd like to hear from you. You can get in touch by filling in the form below, anonymously if you wish or contact us via WhatsApp by clicking here or adding the contact +44(0)7867825056. Only the Guardian can see your contributions and one of our journalists may contact you to discuss further.
Tell us
Johnson is back at Chequers, recovering from a bad case of coronavirus which led to him being briefly placed in intensive care. Gove said the PM was "in cheerful spirits" and had talked on Friday to Dominic Raab, the foreign secretary, who is standing in for him.
Gove rejected the idea that on aspects of the response to the virus, including PPE and testing, the government had consistently been playing catch-up, arguing that it had instead been "considered".
He told the Ridge show: "There is a temptation, of course, to act in certain circumstances because of understandable pressure from commentators and elsewhere. But our approach is to be guided by the science, and to move in a way that is not knee-jerk but considered."
We'll get through this together…
© Times Newspapers Limited 2020.
Registered in England No. 894646.Registered office: 1 London Bridge Street, SE1 9GF.