ROLLS–ROYCE is considering moving more of its "operations" to Germany as worries force Rolls–Royce to start moving operations across to Germany.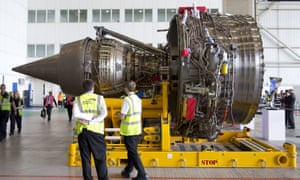 British aerospace firm Rolls-Royce is pressing ahead with plans to stockpile parts and move some regulatory approvals to Germany as it prepares for a possible hard Brexit.
Rolls-Royce on Wednesday said it is in talks with the European Aviation Safety Agency to transfer design regulatory approvals for large jet engines away from the UK. The company already deals with German regulators for business jet components.
Aerospace manufacturers in the UK face the prospect of their regulatory permissions on safety standards being invalidated in EU countries if there is no Brexit deal.